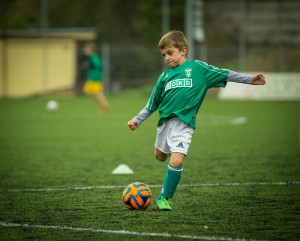 Let's get to the point. Paying the price for prize insurance is easy. However, paying for the prize without insurance is hard and risky especially if you are a new business. And most companies (new or old) do not have the money to cover a prize that is worth thousands. So would you rather pay the price for prize insurance which could start at a low of $120? Or would you want to pay for a prize that is worth $10,000 if a lucky customer happens to win the prize? The decision should be an easy decision to make, but for those that are still on the fence, we have broken down a scenario below.
A community children's soccer league run by parents, was struggling to raise enough funds to purchase soccer supplies for the kids teams. They wanted to hold a promotion at the local county fair to catch the attention of lots of visitors and have a fun-filled event experience.
The league reached out to Interactive Promotions Group for help in finding a promotion. We proposed our popular Goal Post Kick promotion. In this exciting soccer contest, participants are given three balls and challenged to kick each ball and hit a different goal post every time. If they successfully hit the goal posts three times, they earn a grand cash prize. And their grand prize of choice happened to be $25,000.
When hosting their Goal Post Kick promotion, the junior league was very successful in raising funds for the organization. Attendees at the county fair were instantly drawn to this exciting contest and eager to help benefit a great community cause. Even though no one was successful at winning the grand prize, if someone did, the league would of had to take a major loss if they didn't have insurance. All the funds raised would of had to go to paying off their debt.
But since they made the smart decision to get prize insurance, they put their finds to good use. The junior soccer league was able to purchase new goal nets and soccer balls for all three of its junior soccer teams.
So which one is the smarter decision?
The Price Of Coverage: $450
The Prize Amount: $25,000
We pride ourselves on offering the most successful promotions with the most comprehensive prize coverage. Check out some of our contests and promotions by visiting our website at www.interactivepromotions.com.
Photo Credit: Pixabay