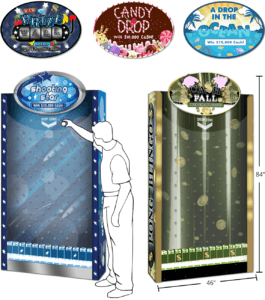 Fun and excitement await with our custom-themed Pong Blingo promotion. This contest can be used for a month-long or season-long promotion and is a great way to engage and extend customer stays. Giveaway the chance to win up to $1,000,000 with this affordable insured promotion.
Simple as 1-2-3…
Decide on the prize you want to giveaway and the number of contestants you want to have participate.
Select the Pong Blingo promotion theme so that we can fully customize the game with your theme and brand.
Have your participants drop the balls and if they land in the right slots then your participant walks away a grand prize winner.
Our large Pong Blingo displays are easy to set-up and can be fully customized to fit your brand and event. Popular options include interchangeable headers, promotional themed backboards, LED chasing lights that highlight your logo etched in plexiglass, swivel wheel casters and much more.
For more information on our Pong Blingo promotion, reach out to us at 888-882-5440 or email us at info@interactivepromotions.com.